PDF Service Manuals, Operation & Maintenance Manuals,
Spare Parts Catalogs
HYUNDAI-HIMSEN diesel engines
Spare parts catalogs, Service & Operation Manuals
Hyundai Heavy Industries is the world's largest diesel engine builder. In Marine Sector HHI produces approximately 35% global market horse power.
See section "MAN / MAN B&W" with MAN Diesel & Turbo licensed 2-stroke and 4-stroke engine.
See section "WARTSILA / SULZER" with WARTSILA licensed 2-stroke and 4-stroke engine.
See sections ISUZU, KUBOTA, YANMAR, MITSUBISHI, IVECO with diesel engines for HHI Construction Equipment.Medium speed diesel engines of Hyundai's own design HiMSEN have the following distinctive aspects (figures for H21/32 as sample):
– High stroke to bore ratio (320/210=1.52)
– High compression ratio (=17)
– High combustion pressure (Max. 200 bar)
– High turbocharging efficiency (Pscav. 3.8 bar)
– Cast-in large air chamber space
– Optimized cam timing (Miller Timing)
– Early intake valve closing
– High fuel injection pressure (Max. 2,000 bar)
– Low fuel consumption and NOx emission
– Better starting and low load performance
– Smokeless operation even at idle load
– Heavy Fuel Oil use (700 cSt at 50В°C)
Hyundai Himsen Engine Model designation
"HiM" means "power", and
"SEN" means "strong" in Korean.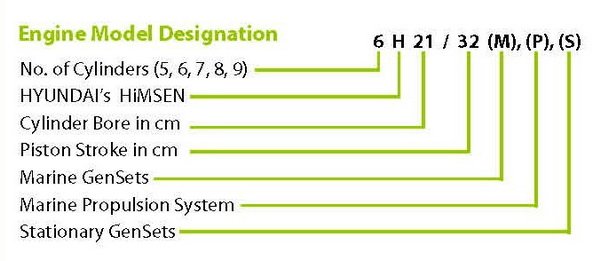 Write to brovertek@gmail.com and ask Operation & Service manuals and Parts Catalogs.
| | | |
| --- | --- | --- |
| ID | Model | Description |
| 203010 | HYUNDAI HIMSEN | HYUNDAI HIMSEN diesel generator for Marine and Offshore application Catalog. Free download. |
| 203011 | HYUNDAI HIMSEN | HYUNDAI HIMSEN prupulsion engine Catalog. Free download. |
| 203012 | HYUNDAI HIMSEN | HYUNDAI HIMSEN diesel generator for Stationary application Catalog. Free download. |
| 203020 | HYUNDAI HIMSEN | HYUNDAI-HIMSEN Diesel Engines Programme 2010. Free download. |
| 203021 | HYUNDAI HIMSEN | HYUNDAI-HIMSEN Diesel Engines Programme 2011. Free download. |
| 203022 | HYUNDAI HIMSEN | HYUNDAI-HIMSEN Diesel Engines Programme 2012. Free download. |
| 203101 | H17/28V | HYUNDAI HIMSEN diesel engine H17/28V – Data Catalog. Free download. |
| 203102 | H17/28 | HYUNDAI HIMSEN diesel engine H17/28 Set of Service Letters. Write and ask. It is Free. |
| 203103 | H17/28E H17/28U | HYUNDAI HIMSEN diesel engine H17/28U(E) Data Catalog. Free download. |
| 203202 | H21/32 | HYUNDAI HIMSEN diesel engine H21/32 Set of Service Letters. Write and ask. It is Free. |
| 203301 | H25/33V | HYUNDAI HIMSEN diesel engine H25/33V Data Catalog. Free download. |
| 203302 | H25/33 | HYUNDAI HIMSEN diesel engine H25/33 Set of Service Letters. Write and ask. It is Free. |
| 203401 | H32/40V | HYUNDAI HIMSEN diesel engine H32/40V Data Catalog. Free download. |
| 203402 | H32/40 | HYUNDAI HIMSEN diesel engine H32/40 Set of Service Letters. Write and ask. It is Free. |
| 203501 | H46/60V | HYUNDAI HIMSEN diesel engine H46/60V Data Catalog. Free download. |
| 206000 |   | Hyundai diesel engine for Construction Equipment |
| 206110 | HB29D1 & HB36D1 | HYUNDAI HB29D1 and HB36D1 Life Boat diesel engines |
| 206120 | D6A | HYUNDAI D6AU, D6AZ, D6AC diesel engines Service (repair) manual |
| 206130 | D6B | HYUNDAI D6B diesel engine Service (repair) manual |
| 206140 | L4GC | HYUNDAI L4GC diesel engine Service (repair) manual |
| 206150 | D4A | HYUNDAI D4A series diesel engines Service (repair) manual |
| 206160 | D4D | HYUNDAI D4D series diesel engines Service (repair) manual |
| 206170 | D4B | HYUNDAI D4B industrial engine Workshop Manual |
| 206180 | 2.0L | 2007-2009 Emission Certified LPG & Bi-Fuel System 2.0L Engine Service Manual. |